The Past is the Key to the Present
In Jillian's studies in Earth Sciences, an important concept was made popular by Charles Lyell, "The present is the key to the past." For Fernie Distillers, The past is the key to the present.
Who We Are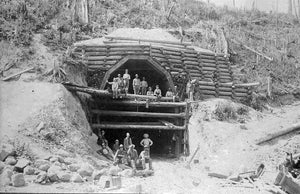 The No.9 mine was located in the Coal Creek area of Fernie. Opening in 1943, No.9 employed 109 miners at its peak and in 1950 it started operating with the first underground diesel locomotive in BC. These days you can follow a hiking trail that passes old mine entrances, buildings and equipment ruins with interpretive signage.
Thanks to William Fernie and Colonel James Baker, the Canadian Pacific Railway arrived in Fernie in 1898 and became a vital link supplying goods and transporting coal. It also brought people and allowed for growth and prosperity which has continued to present day although, the train doesn't stop in town any longer. (Except every second December, the spectacle of the Christmas train lights up the track and town.)
The inspiration for our story is the story of Fernie and the Elk Valley. We are grateful to the good people at the Fernie Museum for their help, insight and enthusiasm.